Published 2022-12-13
Whether you're an experienced e-biker or just getting amped up, there's an e-bike-friendly Great Ride to suit you.
The e-bike is a truly revolutionary invention, one that enables many more people to experience the joys of cycling. They take the sting out of hills and make short work of long distances, and allow friends and family groups to ride together without anyone getting left behind.
Happily, most of the 23 Ngā Haerenga Great Rides of New Zealand offer excellent e-biking adventures, from short, leisurely outings to multi-day tours.
Trail towns on the Great Rides offer excellent support services, from bike-friendly accommodation and handy charging points, to cycle tour operators who can hire you the right type of bike, teach you how to ride it, and come rescue you if things fall flat.
There are e-bike adventures on all 23 Great Rides – here's just a few ideas to get you buzzing this summer. And for more information about riding an e-bike, read our blog.

---
Hawke's Bay Trails – custom-made for cruise mode
This 200km trail network serves up a smorgasbord of attractions alongside lashings of spectacular scenery. Mostly flat, easy to follow, with e-bike hire in handy places, it offers terrific cycling trips from leisurely sightseeing to several days' exploring across Napier, Hastings and the Heretaunga Plains.
You'll want to eat and drink your way around, so put on your stretchy pants. There are plenty of super-easy rides bursting with local flavours, such as wine tours taking in stellar producers like Clearview, Black Barn and Craggy Range, or pub rides out to Puketapu and Westshore Beach Inn.
Architecture fans can enjoy an urban tour of art deco Napier and groovy Ahuriri on the leisurely Marine Parade Explorer. Nature-lovers are spoilt for choice too, especially along the Cape Coast which takes in Waitangi Regional Park wetlands, the illuminating Ātea a Rangi Star Compass, seabird beaches, and the amazing Cape Kidnappers gannet colony.
Tākaro Trails offers excellent summer cycling packages from day rides through to terrific, guided multi-day tours, while Coastal Wine Cycles and Napier City Bike Hire & Tours can get you in the saddle for self-guided tours of art deco architecture, cellar doors, country cafes and other culinary hotspots.
Get a taste of the Hawke's Bay Trails here.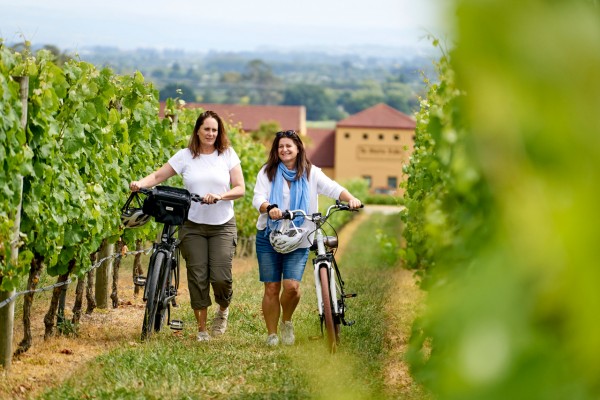 ---
Cross-country on Pou Herenga Tai Twin Coast Cycle Trail
Te Tai Tokerau/Northland's Great Ride is excellent for e-biking thanks to its mix of cruisy rail trail, cycle paths and quiet country roads. Tracking cross-country from the Bay of Islands to Hokianga Harbour, it also passes a raft of fantastic attractions steeped in history and cute wee towns where you can recharge both your battery and your belly.
You can ride the whole Pou Herenga Tai Twin Coast Cycle Trail over a couple of days or enjoy shorter return rides or one-way trips using shuttle transport. A fun addition to the trail for the whole family is catching the vintage train from Kawakawa to Te AkeAke and then cycling the last 3.5km beside the pretty estuary to Opua. The train runs three times daily with a gold coin donation during the summer holiday period.
At the midway point, Kaikohe is a fine place to set off on day rides, such as the westward journey to Hokianga Harbour passing through pretty farmland, native bush, rivers and wetlands. From the trail's end at Horeke, a short ride leads to Māngungu Mission Station with its charming old buildings and harbour views. You can also take a harbour cruise on the historic Ranui launch, or head up to the amazing Wairere Boulders.
Bringing life and colour to the trail near Horeke are a series of colourful murals, created by a collective of local artists of all ages and abilities who came together to explore their artistic talent while sharing the their stories of connection to this place. You can read more about this fantastic project here.
Check in with these official trail partners for bike hire, shuttles and tours: Top Trail, Northland Experiences , Mullarkey Bike & Shuttle and Twin Coast Adventures.
Plan your Twin Coast Cycle Trail adventures here.


---
Kick back along the Hauraki Rail Trail's Shorebird Coast
Following a historic railway corridor for much of its 173 kilometres, this varied and easy Great Ride offers all sorts of e-biking adventures whether you're after a short leisurely ride or a multi-day tour. A series of sweet, welcoming towns have places to charge up, eat up, sight-see and sleep over.
One of the most rewarding day rides takes in the spectacular Shorebird Coast between Kaiaua and Waitakaruru settlements on the Firth of Thames. This coast is notable for remarkable birdlife, shell banks and wetlands, with the Pūkorokoro–Miranda Shorebird Centre an excellent place to stop and learn about this unique habitat and its wildlife. It's also only an hour's drive from Auckland.
Head to the nearby hides, where you could spot long-distance flying bar-tailed godwit/kuaka or resident royal spoonbill/kōtuku ngutupapa, just a couple of the 120 or so species that visit the coast or call it home.
There's plenty more to see on this e-bike ride, including the Miranda Farm Shop, cafe and gallery; Miranda Holiday Park and hot pools; and a pirate ship playground that the kids will love. Accommodation, cafes, and Shorebird Cycles (who offer e-bike hire) also make this area a top spot for adventures anywhere along the Hauraki Rail Trail.
---
Backcountry buzz and hot pools on the St James
Just a short drive from South Island spa-town Hanmer Springs, the St James Conservation Area offers epic scenery on mostly intermediate (grade–3) e-bike rides. While the full St James Cycle Trail is a fairly ambitious one- to two-day adventure, excellent easier options start at the historic Homestead – a cluster of rustic old farm buildings well worth visiting even if you're not riding.
The classic outing is the Homestead Run Loop, an easy to intermediate (grade 2–3) half-day ride that's in top, e-bike-friendly condition thanks to the local trail crew. Climbing gently up the Peters Valley to Peters Pass, with great views over Waterfall Stream, the trail heads through the Edwards Valley and along Tophouse Road, with ever-changing high-country vistas.
Another option is the return ride from the Homestead to Cow Stream, where blissful hot water bubbles into natural pools. This is a pretty decent day out for e-bikers, being 32km (return) of mostly intermediate grade trail with one steep advanced (grade 4) section. But a soak in the hot pools should prove ample reward!
Back in Hanmer Springs, the heritage forest trails cater for everyone from wee kids to kick-ass mountain bikers. Bike hire, and shuttles to the St James, are available from Hanmer Adventure based in town. There's also heaps of accommodation and dining options, as well as the restorative thermal pools complex, of course.
---
Recharging on the West Coast Wilderness Trail
Almost entirely flat and smooth with only one notable hill (a doddle on an e-bike!), this Great Ride mixes magnificent scenery and natural wonders with rich history, hospitality and attractions such as Shantytown, Kumara's Theatre Royal Hotel, and Hokitika's craft galleries and Industrial Heritage Park.
There are endless options for e-bike rides along this 133km trail. Take a short sight-seeing trip from towns along the way, or soak up all the full spectrum of coastal, rainforest and Southern Alps scenery on a multi-day trip between Greymouth, Hokitika and Ross.
Out on the trail you'll feel a world away from civilisation, but in reality you're never far from a cafe, comfortable bed, and a plug to recharge your bike battery.
It's also well supported by several local operators, with e-bikes for hire, including Kiwi Journeys and West Coast Cycle and Tours. For folk wanting everything taken care of, guided, multi-day tours are available with official partners Adventure South NZ and Escape By Cycle.
If you're keen to get up close to the Coast's wonderful birdlife and wetlands, why not head out with West Coast Scenic Waterways on their award-winning boat tour? The scenery may well blow your mind!
---
Getting fully charged for the challenge of The Old Ghost Road?
Aotearoa New Zealand's ultimate wilderness biking adventure is the realm of fit and experienced mountain bikers. However, its 85 kilometres of epic singletrack, snaking through remote valleys and over a spectacular mountain range, can be tackled on an e-bike. Fitness, equipment, bike skills and preparation are still the key to a safe and happy trip!
For a start, you'll need a shipshape, all-mountain e-mountain bike charged up to the max. With nowhere to recharge along the way, you'll also need to conserve power, and carrying a spare, fully-charged battery is a no-brainer. What's more, you may need to lift or push your bike in some places, so you'll need to be fit enough for that, and have the skills and tools to handle any mechanical mishaps along the way (this applies to non-e-bikers too!).
The rewards include some of the best scenery you can see on two wheels, overnight stops in awesome huts, sweet singletrack, and fascinating tales of how this Great Ride came to be. Discover The Old Ghost Road's brilliant backstory here.
Terrific e-bike rides can also be enjoyed from either end. Head up from Lyell Historic Reserve to the rocky tops of Mt Montgomery and savour the sweeping cruise back down, or meander up the Mohikinui River from the Seddonville end, calling into the Rough and Rumble Bush Lodge for a meal or overnight stay.
This grade 4–5 (advanced–expert) trail is well supported by official partners offering bike hire, shuttle transport, guided tours and helibiking.
Plan your Old Ghost Road adventures here.
---
Check out these blogs for more summer Great Rides inspiration
Great Rides updates – Summer 2022/23
Hauraki Rail Trail Community Heroes
Summer deals and news from our National Partners
Enter our Great Rides Summer Photo Competition and be in to win a $500 Holiday Parks New Zealand voucher.
Discover all 23 Great Rides of New Zealand here.