Top day rides of the North Island
Published 2022-08-12
All of Ngā Haerenga Great Rides of New Zealand can be sliced and diced into various day rides – return trips, loops using backroads and connecting trails, or one-way missions with the assistance of a shuttle. Local tour operators are standing by to support you with transport and riding advice, but also with hire bikes (including e-bikes) for those without their own wheels.

From the trail's midpoint – Kaikohe – it's mainly downhill to either coast. This fabulous day ride sees you start there and head westward to Horeke, following the rail trail through a tunnel, along meandering rivers, through native bush, and along a boardwalk to stunning Hokianga Harbour. If you can spare the time, take the detour to fascinating Wairere Boulders, wander around the historic Māngungu Mission Station, or hop on board the historic Ranui launch – it's so much more than a water taxi! 42km, 3–5 hours, grade 2/easy–grade 3/intermediate

---
This 160km trail is split into five easy sections so offers day rides galore. One of our favourites is the return trip from Waikino into the narrows of the Karangahake Gorge. Waikino Station's cafe is a good place to launch into it, and be sure to check out the peculiar remains of the Victoria Battery and bring a torch to guide you through the spooky 1100m tunnel. 18km, 3–4 hours, grade 2/easy
---
Motu Trails, Eastern Bay of Plenty
Riding the Dunes Trail from Ōpōtiki to Tirohanga and back is a great coastal highlights tour, complete with vast ocean panoramas, Hukutaia Beach picnic area, wetlands, and Tirohanga Beach itself. There are several places to access the beach, which is typically empty of people and strewn with interesting driftwood. Swimming may be enjoyed with due caution (the beach is unpatrolled). Bike hire close to the start makes this an easy option for visitors. 18km, 2–3 hours, grade 2/easy
Advanced mountain bikers can tackle a more intrepid day ride by getting shuttled to the top of the Pakihi Track, which flows down through a wild valley featuring glorious forest and a hidden hut, before following a country road back to Ōpōtiki. (Note: conditions on the Pakihi are changeable and heavily dependent on recent weather, with slips and rock debris a possibility; email the trail for the latest info) 44km, 3–6 hours, grade 4/advanced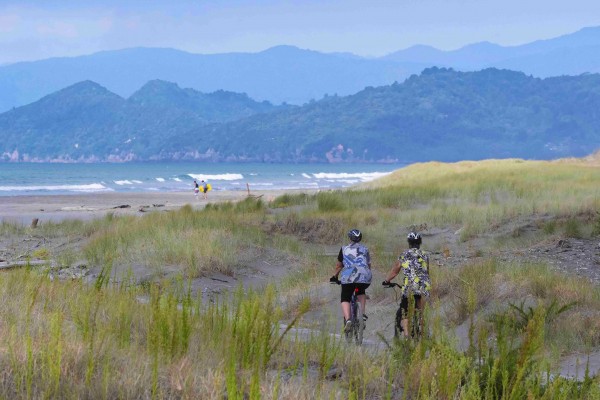 ---
The latest addition to the Great Rides of New Zealand network is the fabulous Whakarewarewa Forest Loop set amongst the trees of one of the country's mountain-biking meccas.
Also known as the Redwoods, Whakarewarewa Forest is a big, beautiful recreational area that will keep you busy for days. Three main riding hubs offer easy access to more than 200km of trails, along with bike hire, visitor information and sculpture, plus cafes, food carts, and even some new hot tubs, nestled in the trees, with buttons you can press for well-earned refreshments.
Soak up the forest's must-see sights on the Loop, which is suitable for confident riders of most ages and abilities, and can take as little as a few hours on an e-bike. Allowing a whole day, however, will give you more time to enjoy the journey, indulge in some forest bathing and learn about the area through a series of evocative storyboards. 35km return, 2.5–5 hours, grade 1–2/easiest–easy


---
Winding beside Aotearoa's longest river, the Waikato River Trails are a wonderful way to experience the region's rural heartland. A deservedly popular ride is the half-day return trip from Arapuni Village, best started with coffee or brunch at Rhubarb Café before setting off across the lofty Arapuni swing bridge. Although Grade 3 and undulating, the trail is suitable for most abilities. 23km return, 2–3 hours, grade 3/intermediate
Another thoroughly enjoyable return ride is between Mangakino and Whakamaru, which has easy parking and a cafe at each end. You'll earn your coffee and cake on the occasional steep section, but the ride is mostly gentle with lovely views along Lake Maraetai, a graceful 70m suspension bridge, and the feel-good factor of the Waikato River restoration project plantings. 24km, 2–4 hours, grade 3/intermediate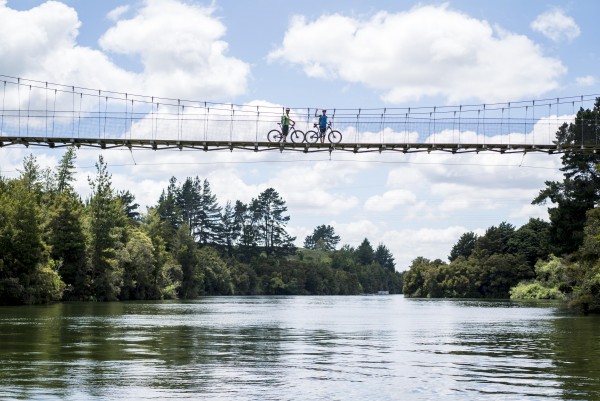 ---
No visit to the Bay is complete without knocking on a few cellar doors or, better still, lingering over a winery lunch amongst the vines. Enter the Wineries Ride: a loop around the Gimblett Gravels, Ngatarawa Triangle and Bridge Pā, where a dozen or so wineries line up for tastings of world-class Chardonnays, Bordeaux-style reds and Syrah. The extra 11km there-and-back detour to Sileni Estate is definitely worth the extra effort, as is the much shorter detour to Roosters Brewery for refreshing craft beer. 36km, 3–5 hours, grade 1/easiest
---
The lakeside village of Kinloch is the best base for a series of awesome half-day to full-day rides suited to various levels of rider. The new Otaketake section combines with the K2K track for a terrific loop, best ridden (in our view) in an anti-clockwise direction for its lake 'reveals' and thrilling downhill. Delightful birdlife, refreshments in the village and the lovely lake swimming add icing to the cake. (Check out the Headland Loop if you're looking for something a bit easier.) 32km, 4–6 hours, grade 3/intermediate
Official partner Four B can help out with bike hire, plus shuttles to the start of the Waihaha section trailhead.


---
Although super-hardy types have been known to knock off the full 85km in one day, mere mortals can get a good taste of the trail without busting a gut. The Pureora end offers enjoyable rides for all ages and abilities, starting with the 7km Crawler Tractor Loop which follows the Timber Trail to the site of the 1920s tractor. A longer ride can be had by continuing on the Timber Trail as far as you like – perhaps to the forest-edge shelter at the 8km mark (a pleasant spot for a picnic) or another 7km to the track summit for a total of 30km return ride in all.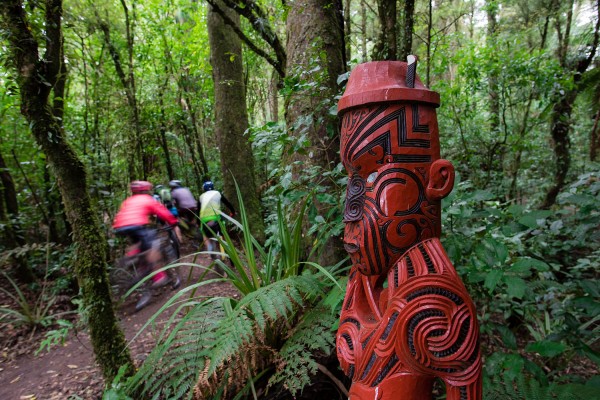 ---
Following an historic byway on the fringes of Tongariro National Park, the once-overgrown Ohakune Old Coach Road is by far the most popular section on the Mountains to Sea – Ngā Ara Tūhono and a contender for New Zealand's most rewarding day-ride. Ride it either one-way, primarily downhill, by starting in Horopito (an easy shuttle drop-off); or as a 30km return ride from Ohakune. Either way, it's a wonderful outing for competent cyclists, complete with impressive lookouts, ancient forest, excellent interpretation panels, and the highly photogenic 284m Hapuawhenua railway viaduct. If you've got some time up your sleeve, be sure to have a look around Horopito Motors, a.k.a Smash Palace. 15km (or 30km return), 2–6 hours, grade 3/intermediate



---
One of Wellington's most popular, family-friendly day rides, the trail starts at Kaitoke and winds up an old railway through a mix of exotic and regenerating forest, with storyboards pinpointing railway relics and retelling colourful tales. The gentle climb finishes at 'Summit', a pretty recreation area with shelter and toilets, and therefore the perfect spot for a rest. Ride back down again for a return ride, or venture further on to the 584m-long tunnel and viewing platform. Pre-booked hire bikes can be picked up from Cycle Remutaka at the Kaitoke car park.
Another great option starts from Petone. Follow the flat, easy Hutt River Trail upstream before returning the same way. Highlights just off the trail include the Dowse Art Museum (10km return; 1–2 hours), and Brewtown in Upper Hutt (43km return; 2.5–4.5 hours) – a hip spot to savour quality, local craft beers and decent grub.
---
Looking for some fab places to stay before or after your cycling adventure? Why not check in with two of our wonderful national partners?
Heritage Hotels – choose from a collection of beautiful, character-filled hotels located on or near our Great Rides.
Holiday Parks Association – awesome, affordable and bike-friendly accommodation all around New Zealand.
---