The Otago Central Rail Trail – our original Great Ride
Published 2020-12-11
New Zealand's original Great Ride blazed a trail for others that followed, bringing benefits not only to riders and walkers but local families, businesses and the wider Central Otago community.
If there's one trail that could be credited with kickstarting New Zealand's 21st century cycling revolution, it's the Otago Central Rail Trail. The country's original Great Ride, it opened in 2000, a good decade before Ngā Haerenga New Zealand Cycle Trails was created.
The Rail Trail was borne out of tough times. Back in the 1990s, the rural community of Central Otago was doing it hard. A downturn in farming meant towns were losing shops, garages, post offices and schools.
When the pin was pulled on the railway between Middlemarch and Clyde, DOC led an ambitious plan to repurpose the historic 152km line as a cycling, walking and horse-riding trail. After six years of hard graft, the Otago Central Rail Trail opened in 2000. It was a first for New Zealand, allowing folks to ride for several days in a row without going on the road.
Not everyone thought it would be successful, including Graeme Duncan, a third-generation farmer from Wedderburn. He readily admits he was sceptical about the trail's potential, but says his son was particularly enthusiastic having seen similar projects overseas. 'The younger ones had more foresight than I did. In my generation, nothing had really worked, particularly in the 30 years before.'
---
---

Twenty years on, the Duncan family's Wedderburn Cottages is just one of dozens of dedicated trail businesses. Accommodation, cafes, pubs, tour companies and more – all benefit from the thousands of people who ride or walk it each year. 'It's been biggest thing for the region since the gold rush,' says Graeme.
A huge bonus of the project has been the celebration and preservation local history.
Spectacular railway tunnels, viaducts, cuttings and more – handmade from local materials – stand testament to the ingenuity and hard work of early engineers, stonemasons and labourers who toiled away on the line for several decades from the 1880s. Other historic gems such as Daniel O'Connell Bridge, Hayes Engineering Works and Gilchrist's Store bring more bygone days vividly back to life.
One of the most photographed sites along the trail is Wedderburn Goods Shed, made famous by Graham Sydney's July on the Maniototo, painted in the 1970s. The dilapidated shed languished in a coal pit over at Idaburn for many years, but after visitors kept asking about it – having seen it in Sydney's painting – it was decided to bring it back and restore it.
---
---

Up until the coronavirus halted international visitors, around 14–15,000 people were riding the whole trail each year. Their average age is 56 or 57, a fact not foreseen when the trail was first mooted. 'That's why the trail has been so successful,' says Graeme. 'So many people can do it.'
The trail's surroundings are also a factor, of course. 'People just love the silence, the space, lack of traffic, big skies, stars at night, landscapes. And the Australians just love the green grass.'
Off the back of the Rail Trail, Central Otago has emerged as a mecca for multi-day, off-road touring, with the region now boasting two more Great Rides – the Roxburgh Gorge and Clutha Gold, which link in at Alexandra.
Early 2021 will see an exciting new addition, the 55km Lake Dunstan Trail between Clyde and Cromwell. Also on the horizon are trails linking to Queenstown via the Kawarau Gorge, and from Cromwell through to Wanaka.
Beyond Otago, other trails have sprung up all over the country. 'We've always wondered what effect all those new trails would have,' says Graeme. 'And while we haven't seen the huge growth we had in those early years, we're sustaining a good number of users while maintaining the trail, and that's important. As long as that continues, the future looks bright.'
---
---

The Otago Central Rail Trail has its fair share of fabulous, interesting characters including Ken Gillespie, who you may well meet if you visit Hayes Engineering Works. Find out more in this lovely video by Clare Toia-Bailey of Image Central.
---

New Zealand Cycle Trail National Partners on the Rail Trail
Go on a fully supported, guided trip with Adventure South NZ, and just sit back and enjoy the ride.
Let Once Upon A Trip sort out all your trip logistics with one of their customised itineraries. Check out this fab trip taking in the Otago Central Rail Trail and new Lake Dunstan Trail.
Heritage Hotels – why not bookend your rail trail adventure with a stay at one of Heritage's quality hotels in Cromwell, Dunedin or Queenstown?
Holiday Parks New Zealand have four bike-friendly parks on our near the trail, with great accommodation to suit all budgets.
Get more out of your Rail Trail adventure with the Great Rides App – the only app covering all of our trails. Not only is it brilliant, it's free to download too.
---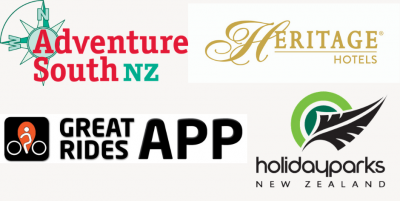 ---
Words by Sarah Bennett (bennettandslater.co.nz)