New Zealand's record-breaking Great Rides
Published 2023-02-02
Looking for outdoor adventures that will take you deeper, further, higher, or even back in time? The 23 Ngā Haerenga Great Rides let you explore New Zealand's extremes – from a super-sized, spooky old tunnel, to the country's longest stretch of singletrack that winds over remote mountains.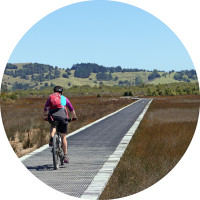 The longest boardwalk on the New Zealand Cycle Trail
Horeke Boardwalk, Pou Herenga Tai Twin Coast Cycle Trail
The only Great Ride that stretches from coast to coast, the Twin Coast reaches its western end at the tiny town of Horeke on the shores of Hokianga Habour. Just before Horeke, riders roll through a mangrove swamp via 1400 metres of boardwalk – an epic stretch by anyone's standard and grand approach to what is a pretty impressive wee place.
Not only home to the hugely historic Māngungu Mission House where the Treaty of Waitangi was signed by 70 Māori chiefs, Horeke is also home to New Zealand's oldest hotel, some fine murals, and the spectacular geological oddities known as Wairere Boulders – a true hidden gem if ever there was one.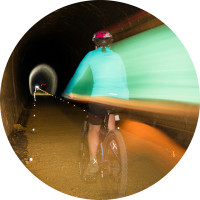 The longest cycle tunnel in the Southern Hemisphere
Spooners Tunnel, Tasman's Great Taste Trail
If there's one thing the Great Rides do brilliantly, it's recycle old railway lines. Tasman's Great Taste Trail is a case in point, taking the Nelson branch line closed in 1955 and repurposing it into a splendid cross-country bike trail complete with a spooky old tunnel. But not just any old tunnel.
Burrowing through the Spooners Range between Wakefield and Kohatu, the tunnel is a pant-wetting 1352 metres long, making it the longest recreational-use tunnel in the southern hemisphere and sixth longest in the world. It's also pretty nippy in the middle!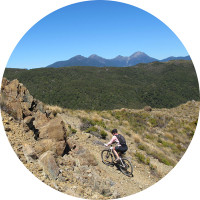 New Zealand's first railway
Coppermine Trail, Nelson
The Nelson region's other Great Ride also up-cycles an old railway line, in this case New Zealand's very first one – Dun Mountain. Opened in 1862, this narrow gauge, horse-drawn line was used to transport chromite down from the mines around Coppermine Saddle, the railway's highpoint and terminus at 878m above sea level.
Best suited to intermediate riders, the old tramway provides a steady but fairly gentle climb from central Nelson up to the rocky saddle, making this one of the most accessible alpine rides on the whole New Zealand Cycle Trails network.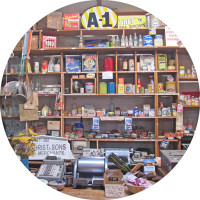 New Zealand's oldest shop
Gilchrist's Store, Oturehua, Otago Central Rail Trail
Remember the days before mega-malls and online shopping? The wee town on Oturehua on the Otago Central Rail Trail offers a step back in retail time. The country's oldest continuously trading store, Gilchrist's is part Kiwiana museum, part proper shop.
Gilchrist's has been operating since 1902, and folks say little has changed over the years. Nowadays, however, you'll find espresso alongside the Rinso laundry powder, with the shelves chock-a-block with products from the past alongside present-day essentials such as pies, ice blocks, groceries and postcards. It's offers a strong shot of nostalgia on the Otago Central Rail Trail, a Great Ride already loaded with local history.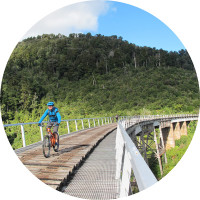 The longest viaduct in Southern Hemisphere
Hapuawhenua Viaduct, Ohakune Old Coach Road, Mountains to Sea Ngā Ara Tūhono Cycle Trail
The Otago Central Rail Trail may have some pretty darned impressive railway history, but it's certainly not the only Great Ride with that claim to fame. Another is the Ohakune Old Coach Road, the second leg of the Mountains to Sea Ngā Ara Tūhono Cycle Trail. It follows a restored cobblestone road between Ohakune and Horopito, famous as the home of 'Smash Palace' car-wreckers.
The old pack-track winds around the forested edge of Tongariro National Park, alongside the main trunk line. This section of railway features spooky tunnels and two famous historic viaducts, including Hapuwhenua – reputedly the longest in the Southern Hemisphere at 284 metres long, and 45 metres above the stream. Restored as part of the Cycle Trail development, this beautiful curved structure can be walked or cycled along, just don't look down between the sleepers!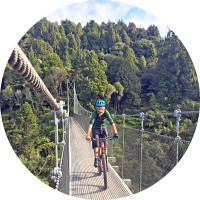 The longest & highest suspension bridge on the Great Rides of New Zealand
Maramataha Bridge, Timber Trail
Interesting bridges are a New Zealand Cycle Trails speciality, so if you don't know your swing from your truss or suspension, you're in for an education! A Great Ride with particularly grand bridges is the Timber Trail through Pureora Forest. No less than 35 new bridges were built to complete the 85km trail, some simple creek crossings, others spanning spectacular gorges.
Of eight suspension bridges, three are more than 100 metres long. The biggest is the whopping Maramataha. At 141 metres long and 53 metres high, it's a thrill to cross, beautiful to look at, and the iconic photo-op of the entire Timber Trail.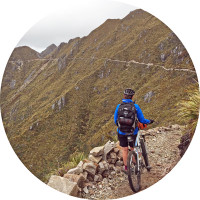 New Zealand's longest & highest singletrack
Snaking through two remote West Coast valleys – the Lyell and the Mokihinui – The Old Ghost Road splices together two never-completed ends of an old miners' road with an expertly cut new trail tracing the ridges of an epic mountain range.
When the 85km trail was officially opened in 2015 it became New Zealand's longest MTB singletrack, with the highest sustained elevation. Not only does it offer some seriously spectacular riding – from fast and flowing to tight and technical – it's also a chance to see forested valleys, admire alpine tarns, tumbling rivers, waterfalls and take in vast panoramas from rocky tops. Could this be New Zealand's ultimate backcountry mountain bike ride?
Photo credits: Horeke boardwalk (bennettandslater.co.nz); Spooners Tunnel (Chocolate Dog Studio); Coppermine Trail (bennettandslater.co.nz); Gilchrist's Store (bennettandslater.co.nz); Hapuawhenua Viaduct (bennettandslater.co.nz); Maramataha Bridge (bennettandslater.co.nz); Old Ghost Road (bennettandslater.co.nz).