Landing in Auckland? Some of New Zealand's Great Rides are within an easy half-day drive from Auckland International Airport.
The five Great Rides in the top half of New Zealand's North Island offer something for everyone, all within a half-day drive from Auckland City.
From the laidback Hauraki Rail Trail to the more adventurous Waikato River Trails, you'll find a trail that immerses you in New Zealand's natural beauty and ticks your boxes no matter how you like to ride.
Learn about our trail grading system
Pou Herenga Tai – Twin Coast Cycle Trail
Historic beauty of the winterless north
A scenically spectacular cross-country journey from the Bay of Islands to Hokianga Harbour, Pou Herenga Tai Twin Coast Cycle Trail serves up an irresistible mix of relaxing riding with significant heritage sites and stories.
This is the only Great Ride that starts on New Zealand's eastern coastline and ends on the opposite coast... you can honestly say you rode New Zealand from coast-to-coast!
A must-see on the Bay of Islands side is Waitangi Treaty Grounds followed closely by Waitangi Mountain Bike Park (with e-MTB hire). While you're in the sub-tropical Bay of Islands, join a cruise from Paihia or Opua, or catch the ferry for a short trip to explore nearby Russell.
The cycle trail starts its westward wend from Opua, through Kawakawa and Kaikohe and on to the Hokianga Harbour. A highlight is a ride on the Bay of Islands Vintage Railway between Taumarere and Te Ake Ake, connecting Opua with Kawakawa.
Region: Northland
Nearest main centres: Whangarei, Kaikohe
Great for: Getting off the beaten track to explore New Zealand
Distance: Up to 87km, shorter one-day rides available
Features: bicultural heritage | varied scenery | warm hospitality
Hauraki Rail Trail
The golden route to Middle Earth
Located south of Auckland, the Hauraki Rail Trail is split into five easily-ridden sections between Kaiaua and Matamata - the home of Hobbiton - that can be ridden in 3-5 days or in sections of day rides.
Gold mines, hot pools, waterfalls, bird spotting, vintage train rides, a 1.1km tunnel adorned with glow worms, and tasty stops along the way, make this a truly must-do New Zealand biking experience. Keep an eye out for hobbits along the way... or at least grab a selfie in front of New Zealand's iconic L&P bottle.
Region: Bay of Plenty
Nearest main centres: Auckland, Hamilton, Tauranga
Great for: Creating lifelong memories with friends and family
Distance: Up to 160km, half-day and one-day rides available
Features: Shorebird Coast | Karangahake Gorge | rural country and towns
Waikato River Trails
Riding with suspense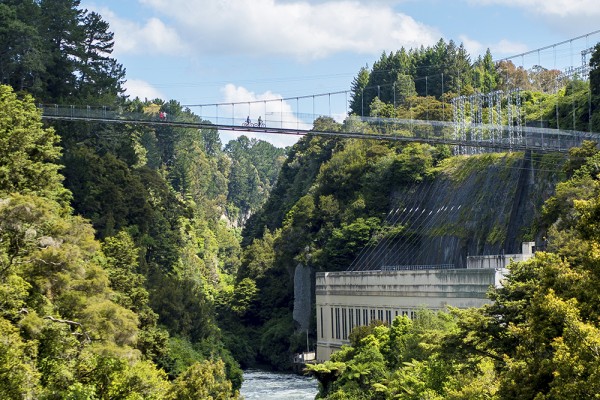 Waikato River Trails
The Waikato River Trails begin at Lake Karapiro, a 30-minute drive south of Hamilton.
The trails run along the mighty Waikato River and are split into five sections - each named after the lake it runs alongside. The trails can be ridden as one in 2-4 days, or choose a section for a day-ride.
A towering (and knee-quivering!) highlight is the historic Arapuni Suspension Bridge. At a length of 152m and height of more than 50m, the near-100-year-old bridge is one of the longest and highest pedestrian and cycling bridges in New Zealand.
Region: Waikato
Nearest main centre: Hamilton
Great for: Relaxing, restoring and re-energising
Distance: 104km, half-day and one-day rides available
Features: river & lake scenery | elegant hydro dams | forest and wetlands
Motu Trails
Ocean, forest and mountain panoramas
The North Island's fabulous East Coast is full of Māori & early European settler history.
Capture the sights of virgin forest and unique coastal habitats on this collection of trails in Ōpōtiki and the villages of Motu and Matawai. The Dunes Trail (easy grade) is a stunning beach-side trail while the Motu Road (intermediate grade) is a genuine adventure through remote bush country, historic farmland and hills that demand good fitness.
Region: Northland
Nearest main centre: Whakatane | Opotiki
Great for: Getting off the beaten track to explore New Zealand
Distance: Up to 87km of half-day and one-day rides
Features: Beaches | forest and hill country | Māori & European history
Whakarewarewa Forest Loop
Forest adventure on Rotorua's doorstep
Mere minutes from Rotorua's CBD, the purpose-built Whakarewarewa Forest Loop boasts around 200km of purpose-built trail, mostly easy but with a few short intermediate (grade 3) sections.
Riding below towering Californian Coastal Redwoods, lush ferns and native trees, you'll learn about the area's long and fascinating history via storyboards and the trail app, while capturing vast views of Rotorua's volcanic lakeland before detouring to the Redwoods Visitor Centre's Treewalk and cafe.
Region: Bay of Plenty
Nearest main centre: Rotorua
Great for: Creating lifelong memories with friends and family
Distance: Up to 33km of half-day and one-day rides
Features: Exotic and native forest | volcanic lakeland views | Māori art & culture