How to ride the Queen Charlotte Track
Published 2023-03-01
One of New Zealand's oldest and best-loved trails, the Queen Charlotte Track can be enjoyed by all sorts of people in many different ways.
Tracing bays, beaches and ridgelines, this Great Ride (and walk) is an unbeatable way to experience the best of the beautiful Marlborough Sounds. It also offers adventures to suit most ages and abilities, thanks to helpful tour operators, great accommodation and other trail support services. You can find details of all of the Queen Charlotte Track's official partners here.
Keen to plan a trip? Here are some tips.
The full trail is best for fit, experienced mountain bikers
At 73.5 kilometres long with plenty of ups and downs, the track is best ridden over 2–3 days. Riders can expect plenty of cruising along sweet singletrack, but the occasional grunty climb, technical descent and other tricky bits bump it up to grade 4 (advanced) and grade 5 (expert) in places the approximate split is 60% Grade 3 (intermediate); 30% grade 4 (advanced) and 10% grade 5 (expert).
A solid intermediate mountain biker can expect around 12–16 hours in the saddle in all.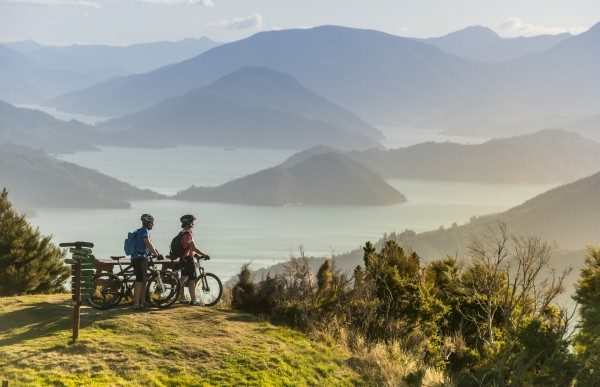 Easier options are available
If your ability or itinerary rules out riding the whole trail, you can get a taste of it on various day rides such as the three described here, or skip some of the tougher gradients by taking the road option. Picton's tour operators offer a fantastic range of packages, combining rides of various length and levels of difficulty with all sorts of awesome add-on activities such as kayaking, walking, or visiting the very special Motuara Island bird sanctuary. They also have bikes (including e-mountain bikes) and other gear for hire if you don't have your own.
Note the summer season riding restriction
The first section of trail from Ship Cove to Camp Bay is closed to cyclists from 1 December to 28 February. This trims around a third off the whole adventure; boat operators will drop you off where you need to start. It's worth noting that the whole trail gets reasonably busy during this time, so you'll need to share the love with hikers and holidaymakers. Just keep the Biking Etiquette cranking and if you can, try to ride mid week and outside of the January school holidays.
Get psyched for a super-scenic boat trip
A classic 'getting there is half the fun' scenario, the Sounds' cruise to and from the track is bound to be a highlight. Well-oiled boat operators drop passengers off all along the trail, and there's plenty of opportunity to see seals, birds and wildlife (including dolphins), while soaking up scenes of pretty bays, bushy headlands and boats zipping around here and there.
Pack a lightweight daypack
Boat operators will transfer your luggage, so you can hit the trail with just your daypack on your back. (We recommend it contains plenty of water, snacks, a sunhat, suncreen and swimsuit, for a starter…) By the time you get to your accommodation or back to the Picton wharf, your big bags will be waiting for you. Too easy!
Factor in refreshments at a resort
Spread along the track are several picturesque resorts where you can roll in for meals and other refreshments. If a lazy lunch tickles your fancy, we recommend factoring in ample stopping time … more than one rider has found themselves lingering way longer than anticipated over a second glass of Marlborough rosé or cold beer. Check ahead for opening hours and offerings, especially outside of peak season.
Book your special sleepover
Staying overnight in the Sounds is a memorable bonus with a strong possibility of starry nights, glowworms and a twittery dawn chorus. Full trail riders will need 1–2 nights' accommodation along the trail. Options range from basic campsites, hostels and homestays, to the resorts where you can get various levels of lodging with meal inclusions, too. Note that on-track accommodation is limited, so you'll need to book well in advance during the busy summer season.
Pay for your track pass
The Queen Charlotte Track is run by a co-operative of private landowners, DOC and the Marlborough District Council. To help them fund trail improvements, trail users are asked to buy the QCTLC pass, available from various trail partners or the Queen Charlotte Track Landowners Co-operative here.
Consider biking back to Picton via the Link Pathway
For most riders, the adventure ends at Anakiwa with a boat pick-up and cruise back to Picton. However, the Link Pathway provides an off-road cycling alternative back to Picton shadowing the spectacular Queen Charlotte Drive (around 2–3 hours/24km). Note that there's plenty more accommodation lining the Link Pathway from Anakiwa through to Picton, so it's possible to extend your Queen Charlotte adventure even further.
Take time to linger in Picton
Heart of the Sounds, Interislander ferry port, one end of the amazing Coastal Pacific Great Journeys New Zealand train trip, and gateway to the South Island – you'd be crazy not to spend an extra night or two in pretty Picton. Our top tip for cyclists is the Snout Track, now rideable all the way out to the spectacular lookout, but it would be remiss not to mention that you're just 20 minutes' drive from Marlborough wine country, too.
Let us know if you get on the trail, and how you find it by tagging us in via our Instagram or Facebook feeds with #greatridesofnz!
Read more about the Queen Charlotte Track here, including all you need to know to plan your Great Ride, and download the latest map.
Words by Sarah Bennett and Lee Slater.