Cutting a track through some very hilly, remote country, this super-scenic and technically easy, but physically arduous, ride follows some of the North Island's best cycle routes.
The Kōpiko is another bikepacking route designed by the Kennett Brothers, who describe it as a 'step up' from their renowned Tour Aotearoa course. Consider yourself inspired!
It's a ride from coast to coast – from East Cape in Tairāwhiti, to Cape Egmont in Taranaki. It can be ridden in either direction, with neither way a clear favourite of the Kennetts, however, they do mention that you're more likely to face a headwind when heading west…
While the route is described as 'technically easy', it's certainly not for the faint-hearted. As it traverses the widest point of the North Island, riders will travel over 1000 kilometres through rural Aotearoa, along the way climbing over 17,000 metres – almost the equivalent of climbing Mt Everest, twice!
---
---
---
It follows a mix of mostly remote gravel and sealed back roads as well as dedicated cycle paths including two Great Rides – the Waikato River Trails and Timber Trail, with the option of riding the legendary Pakihi Track (part of the Motu Trails Great Ride).
Services are sparse along the route, so riders need to be self-sufficient and well prepared. Riders will also need to carry camping equipment unless they are super organised and on-schedule to arrive on time at pre-booked accommodation. It can be ridden all year around but the best time is late summer and early Autumn for favourable weather and less busy highways.
---
---
The rewards are many and varied, as shown by these highlights:
East Cape lighthouse & Tairāwhiti coastal highway
Lake Waikaremoana
optional detour on the legendary Pakihi Track on the Motu Trails
geothermal landscapes around Waiotapu & Waikite Valley, south of Rotorua
Waikato River Trails along our mightiest river
Centre of the North Island Heartland Ride
Timber Trail through spectacular Pureora Forest
Forgotten World Highway Heartland Ride
remote republic of Whangamomona with its lovely old pub
New Plymouth – great dining, museum & gallery and coastal pathway
imposing Mt Taranaki views on the way through to Cape Egmont & the Tasman Sea

The Kennett Brothers produce two small, lightweight Kōpiko Aotearoa official guides – one for each direction of travel – written by Jonathan Kennett and Erik Westra, and including comprehensive cue sheets, maps, and elevation charts as well as details about accommodation, transport and cafes.
---
---

New to bikepacking? Check out our Introduction to Bikepacking blog and the Kennett Brothers' Bikepacking Aotearoa guidebook which provides detailed advice and 20 suggested routes, some of which could be linked into this epic, as could extended rides along the Tour Aotearoa route. (Once you start you might not want to stop, right?)
Arriving by air? It's 192km from Gisborne Airport to East Cape, and 46km from Cape Egmont to New Plymouth. Riding these extra bits will round your epic up to around 1400 km.
---
This section is based on text and images supplied by the Kennett Brothers; for more in-depth information, check out their fab new Bikepacking Aotearoa guidebook and/or their Kōpiko Official Guides – you can find out more about the books and buy copies here.
---
---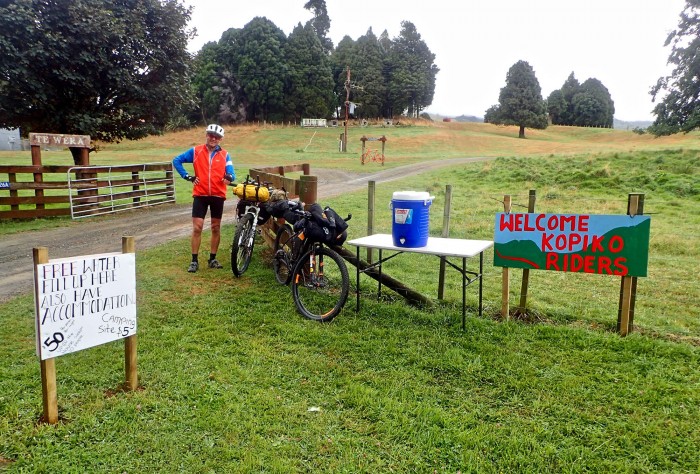 ---