Top trail lookouts & views
The 23 Great Rides take you into some of New Zealand's most beautiful landscapes – from wild coastlines, remote river valleys and gorges, to rural plains, tussock-covered high country and the mountains. What's more, cycling allows you to soak it all in at the perfect pace, and reach places you might otherwise never see. Here are just a handful of highlights.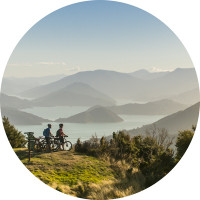 Eatwell's Lookout (Queen Charlotte Track)
Tracing the bays, hills and ridges of the Marlborough Sounds, the Queen Charlotte track packs in more water views than any other Great Ride. Arguably the best, however, is Eatwell's Lookout, reached on a short, sharp but essential detour off the track between Camp Bay and Kenepuru Saddle. The views up and down Queen Charlotte Sound, and way out into the Cook Strait are nothing short of sublime.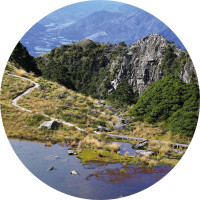 Ghost Lake Hut (Old Ghost Road)
This is another Great Ride with no shortage of incredible views, which open up in earnest beyond Lyell Saddle where the trail emerges above the bushline and cuts across the face of Mt Montgomery to its highpoint of 1280m. Just beyond, at 1200m, Ghost Lake Hut affords what is probably the most captivating view, with an overnight stay allowing you to appreciate it in the evening light, starry night, and the following dawn – possibly through a veil of wafting cloud.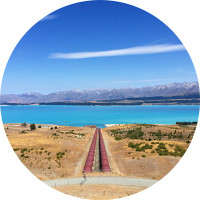 Tekapo B (Alps 2 Ocean)

The ride between Lake Tekapo and Lake Pukaki is total eye-candy, coloured with surreal blue lakes and hydro canals, golden tussock, and mountain ranges of various shape and hue. It's absolutely classic Mackenzie Country. Perched high above Lake Pukaki, however, Tekapo B Power Station takes the experience next level offering a stupendous panorama over the lake and Southern Alps including Aoraki/Mt Cook.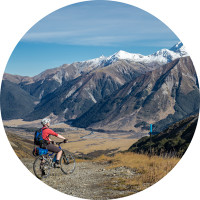 Maling Pass (St James Cycle Trail)
Chances are your eyes will already be as big as saucers before you've even turned a pedal on the St James. This remote high country conservation area is about as beautiful as New Zealand gets, so by the time you reach Maling Pass – around an hour in – you may already be overdosing on natural grandeur. At 1308m, the pass ushers you into a whole new world of wonderful, with the descent offering an ever-widening view of the Waiau Valley with its soaring peaks, golden tussock and pockets of beech forest.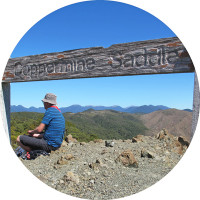 Coppermine Saddle (Coppermine Trail)
One of the country's most accessible alpine mountain bike rides, the one-day Coppermine Trail heads directly into forested hills behind central Nelson. Getting up high requires a steady climb along an old tramway line, but with each corner comes an ever-expanding panorama of Tasman Bay and the Kahurangi ranges. As if this weren't enough, having emerged above the bushline and sidled around Wooded Peak to Coppermine Saddle (878m), expansive new views open up over the Richmond Ranges and upper Maitai Valley.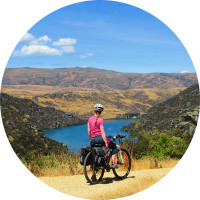 Roxburgh Gorge Trail
With an endless procession of wow-moments, this is one of the country's most visually spectacular day rides. Sometimes close to the water's edge, sometimes high above it, the trail follows the mighty Clutha Mata-au River through an otherworldly gorge. Its dry, eroded bluffs are a stark contrast to the vibrant willow, thyme and hardy native shrubs that change colour with each season, and of course the surreal blue waters of the swirling river.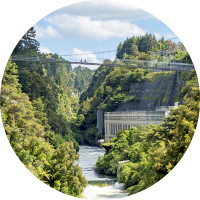 Arapuni Suspension Bridge (Waikato River Trails)
A good way to give yourself white knuckles and wobbly knees, this suspension bridge provides access to the Waikato River Trails at Arapuni village. Stretching across a rocky gorge section of the mighty Waikato, the bridge was built in the 1920s so construction workers could get to the power station site. At 152m long and more than 50m high, it's one of the longest pedestrian (and cycling) bridges in New Zealand, and offers a spectacular vantage of the elegant, heritage-listed power station below.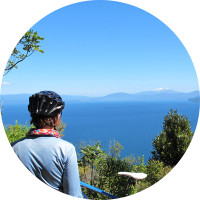 Great Lake Trails
There's eye-popping scenery along much of the Great Lake Trails' 83km, including gushing waterfalls, lush native forest and a spectacular volcanic gorge. It's the elevated vistas over New Zealand's largest lake, however, that blow most riders away. Headlands and rocky outcrops afford panoramic views way across Lake Taupō to the volcanoes of Tongariro National Park. While closer in is a series of beautiful, forested bays, some accessible from the trail and offering picture-perfect swimming and picnicking.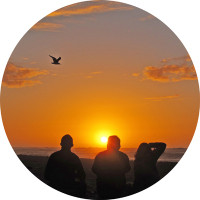 Sunset Point (West Coast Wilderness Trail)
No list of lookouts would be complete without a sunset spot, right? Well, when it comes to the Great Rides you need look no further than the West Coast Wilderness Trail. There are plenty of places to watch daylight fade – over the ocean, lake and rainforest. Our favourite is Hokitika's Sunset Point – the perfect place for post-ride feed of fish and chips, the Tasman Sea crashing against the driftwood-strewn beach and whirling around the mouth of the Hokitika River.
Photo credits: Eatwell's Lookout (MarlboroughNZ); Ghost Lake Hut (Richard Rossiter); Tekapo B (bennettandslater.co.nz); Maling Pass (Bevan Triebels); Coppermine Saddle (bennettandslater.co.nz); Roxburgh Gorge (Bike It Now! Clyde); Arapuni Suspension Bridge (Waikato River Trails); Great Lake Trails (bennettandslater.co.nz); Sunset Point (bennettandslater.co.nz).