10 reasons to go on a Great Ride
Published 2022-06-06
Cycle trails are a wonderful way to rediscover New Zealand and reconnect with friends and family.

Between beautiful wide-open places, amazing sights and friendly folk, there are literally millions of reasons to head out onto our cycle trails. Let us convince you with ten of the best.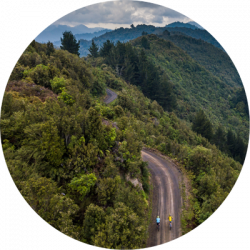 1 Explore incredible natural worlds
The 23 Great Rides venture deep into many of New Zealand's most memorable landscapes – from mountains to sea, forest to farmland, untouched wetlands to the mystical volcanic plateau. You'll see ancient trees, alpine rock gardens, pristine lakes and glittering beaches. You'll thread through remote river valleys surrounded by soaring, snow-capped peaks. And you'll encounter charming birdlife, lazy seals, sparkly glowworms and leggy insects like weta and cave spiders. Get ready to roll and keep your camera handy.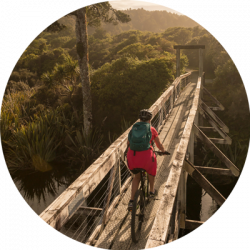 2 Discover New Zealand's history
Known in Māori as Ngā Haerenga (The Journeys), many of the Great Rides follow routes forged by early travellers – Māori hunters and gatherers, European explorers and surveyors, miners, railway builders and other pioneers. They traverse greenstone trails, bridleways, tramways, railways and high-country tracks, reaching captivating places such as mountain huts, historic homesteads, old gold towns and handsomely carved marae. Along the way, their stories are brought to life through evocative information panels.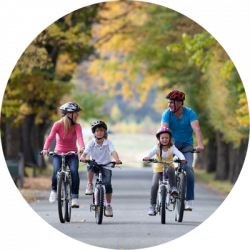 3 There's a ride for everyone
Most of the trails are easy to intermediate, meaning there's a ride for almost every age and ability. In general, multi-day trails are best suited to fitter, more experienced riders, but almost all of the trails can be broken up into shorter trips – from easy rides that the whole family can enjoy, to all-day adventures for those with more stamina. Mountain biking fans will find plenty of challenging singletrack to suit them too.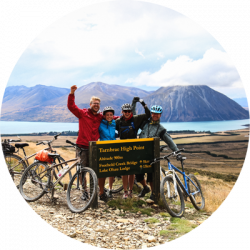 4 Park up 'n' ride!
Holiday parks and cycling go hand in hand with their sweet green spaces to park your van and beds for every budget, from basic cabins to flash motel units. There are parks close to all of our Great Rides, and many are 'Cycle Hubs' with bike-friendly facilities and the low-down on the best places to ride. They're the ideal spot for groups and family get-togethers too.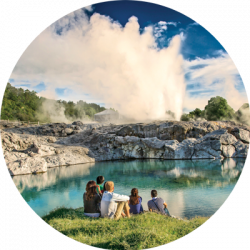 5 Get off track & try something new
They say variety is the spice of life, and our Great Rides serve up a veritable smorgasbord! Many trails pass by or near must-see attractions and activities: why not go star-gazing in Tekapō, kayaking in Abel Tasman, jet boating on the Whanganui River or see the incredible geothermal parks around Rotorua? You could even go bungy jumping or skydiving in Queenstown. To quote a famous cyclist, it's not all about the bike!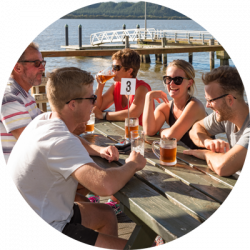 6 Eat & drink your way around
The beauty of burning all those calories, of course, is guilt-free enjoyment of delicious food and drink. Scoff juicy, seasonal fruit from a roadside stall, or savour a scoop of freshly churned gelato. Sample beer from countless craft breweries, or go wine-tasting around the country's top terroir. Indulge in heavenly home-baking in countryside cafes, or head to urban eateries to dine on refined cuisine featuring prime local ingredients. If you're looking for fantastic food tours, you're in luck!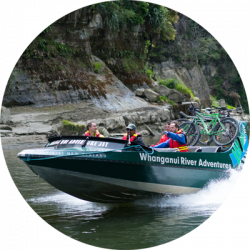 7 Take it easy
Enjoy a hassle-free holiday by letting the locals sort your logistics. New Zealand's ever-growing cycle trail network is well supported by folks eager to help you get the most out of your adventure – bike shops, hire depots, shuttles, bike-friendly accommodation and much more. Tour companies also offer everything from independent bike tours to fully guided multi-day trips including all meals, accommodation and luggage transfers.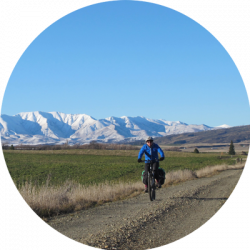 8 Experience all seasons
Most trails can be ridden all year round, with each season bringing new aspects of nature and colours to the fore. While summer is the most popular time to ride, spring, autumn and winter are excellent alternatives for their cooler temperatures and fewer crowds. Many trails are also wonderful whatever time fo year, especially those back-dropped by snowy mountains brought into sharp focus through crystal-clear air.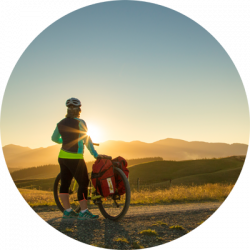 9 Soak up the sights at the perfect pace
A bit of puffing and pedalling won't stop you from relaxing and enjoying the ride. Cycling is a rewarding way to spend your days, allowing you to see the sights while making the most of great scenery, good company and much more along the way. As they say, getting there is half the fun. In the case of the Great Rides, it's all about the journeys – that's why we call them Ngā Haerenga.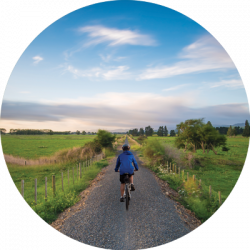 10 Great Rides feel great
Call us biased, but we reckon few activities make you feel as happy and free as riding a bicycle. With the sun on your face, the breeze at your back, and blood pumping around your body, you'll feel refreshed, energised and restored to your former glory! And there's the satisfaction of knowing that – by exploring by bike – you're leaving a light footprint, supporting local communities and getting to know the real Aotearoa New Zealand.

You can read more about all of the 23 Great Rides here!
Kia ora! Enjoy the ride!
Photo credits: Mead Norton Photography (1); Jason Blair (2); Destination Queenstown (3); Rebecca Ryan (4); Te Puia (5); Ruth Lawton Photography (6); Visit Ruapehu (7); bennettandslater.co.nz (8); Chocolate Dog Studio (9); thecoromandel.com (10).
---

Once Upon A Trip New Zealand
Let our national partner, Once Upon A Trip, sort out all the logistics for your Great Rides adventures with one of their awesome customised itineraries. Find out more here.