Planning a bike-friendly holiday
Published 2021-10-09
Between Aotearoa New Zealand's flourishing trail network and brilliant bike-friendly businesses, there's never been a better time to embark on a two-wheeled holiday.
And it's hard to beat the feeling of being on the bike. Roaming free, exploring new places and expanding your horizons, the sun on your skin and the breeze at your back, bonding with your besties over simple pleasures like riverside picnics, watching wildlife or simply soaking up the country's magnificent scenery.
Ready to bring it on? Start planning now!
First, choose your trails
This may be the hardest part of your holiday. New Zealand is so flush with fabulous trails it may be a challenge choosing which ones to do. Not sure where to start? Check out our Inspire Your Ride blogs and read more about each of the 23 Great Rides.
AA Traveller is also full of inspiration. Their Cycling Must Do's Guide features all the Great Rides as well as many others (also available in print from AA offices and i-SITEs). You can also browse all sorts of cycling stories on their AA Directions online magazine.
Sort your transport
If you're crossing Cook Strait on the ferry, be sure to book early during the school holidays. The Interislander is very bike friendly, with no charge for bike racks on the back of your car. If you're riding your bike onto the boat or taking it on as excess baggage, it's just $15 extra; and it's easy to check your bike in, roll it on to the ferry, and lock it up on the vehicle deck.
You can find more tips for getting pedal-ready here.
In the spirit of 'slow travel' and low-carbon footprints, let's not forget KiwiRail's Great Journeys train trips. The Northern Explorer will get you to the Mountains to Sea Ngā Ara Tūhono; the Coastal Pacific to the Queen Charlotte Track; and the TranzAlpine to the West Coast Wilderness Trail.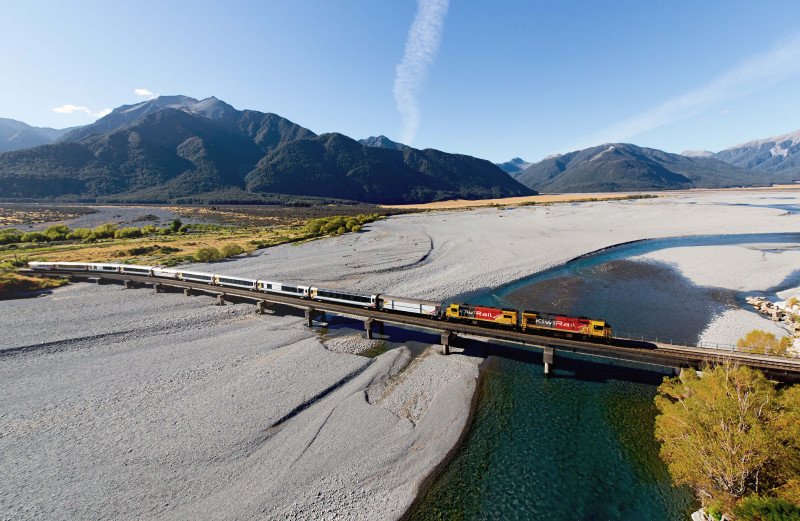 Add in shuttle transport, a Heartland Ride or a bikepacking route and you can reach other Great Rides including the Timber Trail and The Old Ghost Road.
Trains have a dedicated baggage carriage where you can store up to two bikes (subject to availability) for just $20.
Book bike-friendly accommodation
When it comes to accommodation, camping and cycling go hand in hand. Whether you head to a basic campground or a relatively flash holiday park, there's bound to be room to practice your berms and turns.
The Holiday Parks Association lists New Zealand's best campgrounds, which offer 'a bed for every budget' including cabins and motel units. Many are 'Cycle Hubs' making it easy for riders to stay, offering secure storage, a clean-down area and other bike-friendly facilities. They'll know all the best rides in the area, too.
If you're more of a hotel type, check out the Heritage Hotels network which has personality-packed accommodation on the doorstep of over a dozen Great Rides from Northland to Southland. They're super-bike-friendly too, providing cycle storage, clean-down areas, and hook-ups to local bike shops, hire depots and tour operators.
Hop on a bike tour
There are heaps of bike tour companies ready to get you out on the trails no matter where, how and with whom you want to ride. They can sort bike hire, guiding and shuttle transport, as well as itineraries and logistics for groups with different interests and abilities. Read more about bike tours here, and check out our national partners Once Upon A Trip and Adventure South NZ at the bottom of this article.
Plan your ride & stay on track
To keep the wheels on, make sure you've planned your ride right and carry a map. Even better, consider downloading the Great Rides App, which has maps, elevation profiles, trail descriptions and more, and also pinpoints the all-important picnic spot, country pub, or loo.
Find other cool stuff to see & do
Looking for a bike-friendly winery or cafe? Want to treat your crew to a scenic flight, wildlife tour, jet boat ride or kayak trip? Or perhaps do a bungy jump, visit a museum, or soak in a hot pool? The New Zealand Cycle Trails' official partners will be only too pleased to see you.
Ngā Haerenga New Zealand Cycle Trails is proud to work with seven national partners, and over 500 official partner businesses and other organisations. Together, we appreciate your support in making our trails even greater and helping our local communities grow.
Once Upon a Trip NZ
Auckland-based national partner, Once Upon A Trip, specialises in tailored itineraries for friends, families, couples and the solo traveller. Their small team of travel experts prides itself on personal service, attention to detail, and the ability to create trips for all budgets, abilities and length of stay. Trips can incorporate Great Rides in both the North and South Islands – Twin Coast Cycle Trail, Timber Trail, Remutaka Cycle Trail, Tasman's Great Taste Trail, Alps 2 Ocean, Lake Dunstan Trail and the West Coast Wilderness Trail.
Visit their website.
Adventure South NZ
Christchurch-based Adventure South NZ is New Zealand's largest guided adventure tour operator, offering a great range of supported cycling, hiking and multi-activity trips across both islands. Their focus is innovative, seamless itineraries featuring memorable accommodation and top-notch bikes, run with environmental sustainability and social responsibility always in mind.
Visit their website.
Words by Sarah Bennett & Lee Slater (bennettandslater.co.nz).