Great Rides Events for Spring
Published 2022-09-14
Spring has sprung, and the Great Rides events calendar is filling up!

Whether you're looking for easy ride or a fun run/walk, keen to test your mettle on an epic multisport event, or simply looking to mix up your cycling with some fine food and wine, there's an event for you. If this all sounds a little bit exhausting, New Zealand's first dedicated e-bike festival should get you charged up.
If you love adventure, are keen to meet new people and thrive on a bit of competition, or want to push your limits, why not sign up for one of these memorable events?
Here's a rundown of the events taking place this spring around Ngā Haerenga Great Rides of New Zealand. You can also view the full events calendar, including events for next year, here.
Eat.Taste.Central. (

23 September — 24 October 2022)
This is an event where your calorific intake might outweigh what you burn off the bike, but you're still guaranteed to feel like a winner. There's no race bib, starting gun or photo finish, and (sadly) no champagne shake-up on the podium, although there will be some of the world's finest pinot noir, at Central Otago's month-long food and wine festival. Just sit back and relax in the saddle, and celebrate local flavours in cafes, restaurants and wineries on or near the region's four Great Rides – the Roxburgh Gorge, Clutha Gold, Lake Dunstan Trail and Otago Central Rail Trail.
Find out more on the Central Otago NZ website.
---
The Taniwha (

12 October 2022)
The Feisst Group Taniwha on the Waikato River Trails is perfect for families, newbies and big social groups with an entry category for everyone, including mountain biking, e-biking and run/walk options. Wind your way beside New Zealand's longest river, taking in stunning rural scenes, beautiful boardwalk and suspension bridges, and some sweet singletrack thrown in for good measure. Knock off the full 44km, take a chill-pill and amble your way along the 7km course, or choose something in between.
Find out more and enter on the event website.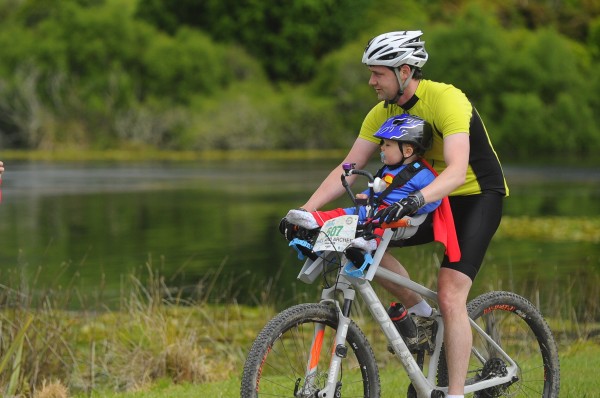 ---
Motu Challenge (

15 October 2022)
Are you up for the Challenge? Set near Ōpōtiki in the stunning Eastern Bay of Plenty, with a feature stage on the Motu Trail's historic Motu Road, this is commonly regarded as the North Island's premier multisport event. Pick from the full-Monty Motu Challenge (MTB/run/road cycle/kayak/road cycle run), the Motu 160 MTB/road cycling option, or two duathlons. Mere mortals may want to enter as a team or knock off one of new short courses! Go hard, and then go home knowing you've experienced one of Aotearoa's greatest events, in a precious and beautiful corner of the country.
Find out more and enter on the event website, and get training. If you don't think you have what it takes, there's always next year!
---
Taupō Ultra Challenge (

15 October 2022)
Sign up for this running event of a lifetime held on Taupō's beautiful Great Lake Trails. Winding through native bush and farmland with panoramic views across New Zealand's largest lake – knock-your-socks-off scenery should help distract you from any aching limbs. Options range from a 24km run/walk to the full monty 100km epic, with plenty of pretty places to cheer on competitors for those just looking to soak up the atmosphere.
Find out more and enter on the event website.
---
Cyclorama – NZ's first e-bike festival (22–23 October 2022)
Whether you're looking to run in Eco, Trail or Turbo-mode, the country's first e-bike festival, based around the Queenstown Trails, is bound to get you charged up. Expect cocktails and cycling, beer and bikes, tasty trail-side pit-stops and more, plus cruisy cycling thanks to the power of electrons! Themed rides, include family-friendly options and rides for fit types looking to push themselves. All rides start and finish in historic Arrowtown village.
Find out more and enter on the event website. Get in quick, these events are selling like hot cakes!
---
Ride the Wilderness (12 November 2022)
Looking for an excuse to visit one of New Zealand's most beautiful regions? Sign up for this the wonderful event on the West Coast Wilderness Trail, and choose from four aptly names rides, ranging from 'The Cruise' (Kumara to Greymouth, 21km) to 'The Epic' (Ross to Greymouth, 126km). Race as an individual, or in a team, and be wowed by the Coast's magnificent scenery on this deservedly popular Great Ride.
Find out more and sign up on the event website.
---
Remutaka Rail Trail Run & Walk (12 November 2022)
On the capital's doorstep, the Remutaka Cycle Trail is home to this family-friendly event. Pick from the 7km, 14km or 21km courses that wind through the Remutaka Ranges, taking in the historic Remutaka Rail Trail with its gentle 1-in-40 gradient. Enjoy coffee and refreshments at the start/finish, with fun times guaranteed.
Find out more and sign up on the event website.
---
Queenstown Marathon (19 November 2022)
Arguably New Zealand's most beautiful marathon, this eye-popping course follows sections of the Queenstown Trail, including the Arrow River Bridges Trail, the Lake Hayes Circuit and Lake Wakatipu Trail. Choose from the full marathon, half-marathon, 10km, and a 3km course to get the kids on track.
Find out more and enter on the event website.
---
Bikepacking events
If you're really keen to push your limits, why not consider entering a bikepacking epic such as the Tour Aotearoa, Kōpiko Aotearoa, or their new family member the Sounds to Sounds? This new brevet event from the bike-mad Kennett Brothers follows a super-scenic 1500km route all the way from the Marlborough Sounds to Milford Sound; complete it between five and 20 days – no more, no less!
Find out more about bikepacking in the dedicated section on our website.
---
Full events calendar
All upcoming events on the Great Rides can be found here.